🌱 What is Your Planting Zone?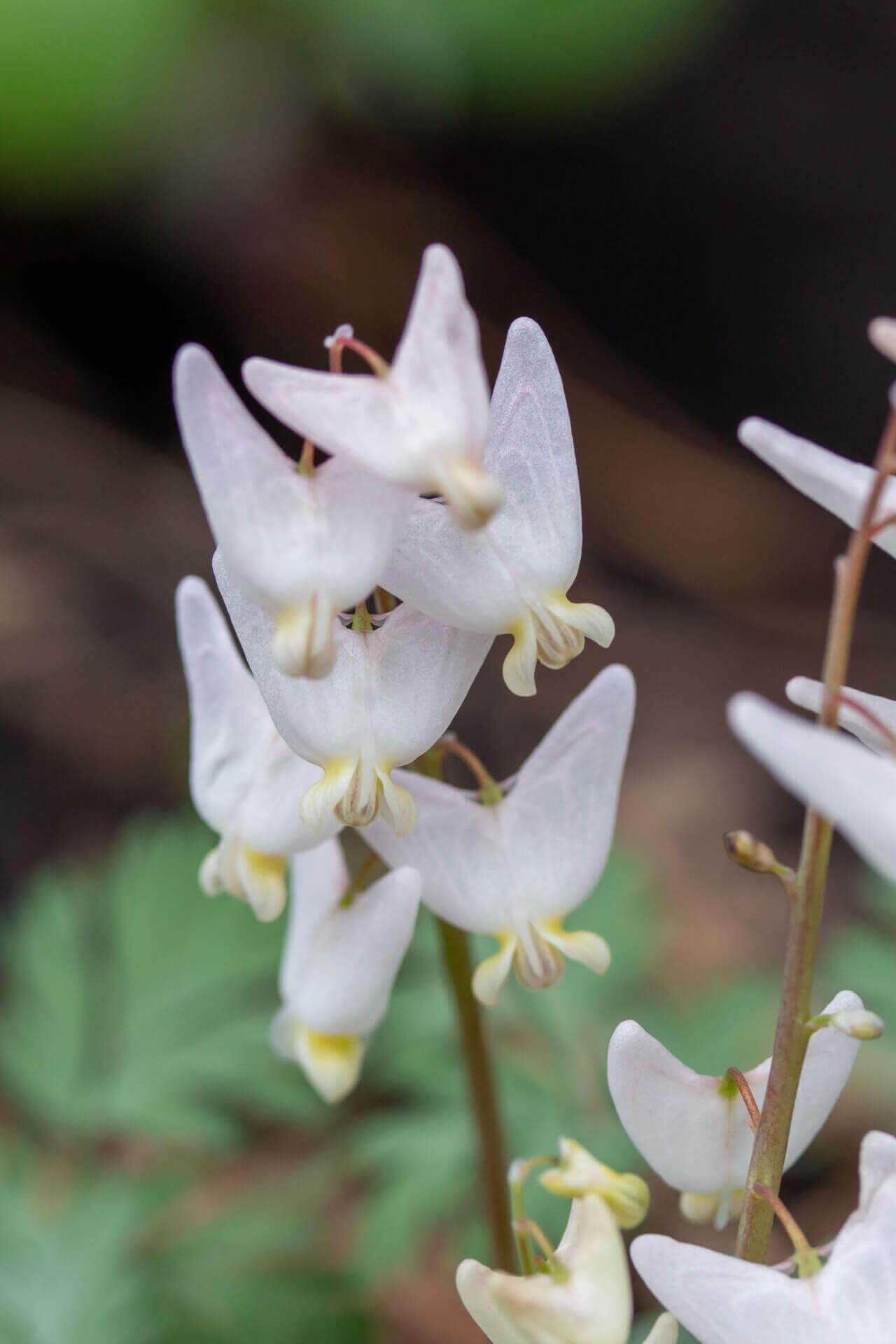 Dutchman's Breeches
Dicentra cucullaria, commonly known as Dutchman's breeches, is a charming and delicate spring ephemeral plant that belongs to the family Papaveraceae. Native to eastern North America, from Canada down to the United States, this perennial herb is cherished for its unique appearance and early spring bloom.
The name is derived from the plant's distinctively shaped white or pinkish-white flowers, which resemble a pair of upside-down, old-fashioned pantaloons or breeches. Each flower has two elongated spurs that hang down like pant legs, and these spurs give the plant its memorable appearance.
Dicentra cucullaria typically grows in rich, moist woodlands and shaded areas, where it thrives in well-draining soil. It emerges from the ground in early spring, often before the forest canopy fully develops, and blooms from March to May. The flowers are visually appealing and fragrant, attracting early-season pollinators like bees and butterflies.
Their leaves are finely divided, somewhat fern-like, and emerge in a basal rosette. They are blue-green and add to the overall attractiveness of the plant. As the weather warms and spring progresses, the foliage starts to wither and die, disappearing entirely by early summer. This growth cycle is characteristic of spring ephemeral plants, which take advantage of the forest floor's sunlight availability before trees and other vegetation leaf out.
Dutchman's Breeches Cucullaria Has Historical And Cultural Significance
Gardeners and nature enthusiasts appreciate them for their ornamental value and role in early spring woodland gardens. It can be challenging to cultivate outside of its native habitat, as it requires specific growing conditions and a naturalized setting to thrive.
In conclusion, Dicentra cucullaria, or Dutchman's breeches, is a fascinating and aesthetically pleasing native wildflower in eastern North America. Its distinctive appearance, early spring blooming period, and cultural history make it a valuable and cherished plant in natural and cultivated settings.
 Buy Dutchman's Breeches At Wholesale Nursery Co
Very Satisfied
I have planted the Dutchman's Breeches and they are healthy and growing. I could tell they were alive and vibrant when they arrived (bare root). I am hopeful they will thrive.
Dear Julie, thank you for sharing your rating with us. We really appreciate you taking the time to leave us your 5-star review. It means a lot to the whole team, and we'd love to have you back very soon.
Dutchmans Breeches
A very resilient plant of mine just in my frontyard, I have this for two years already.
We spotted your 5-star review. Wow! Thank you so much for trusting us, and we can't wait to help you again in the future.
Wonderful
These plants from very strong stalks, and work very well.
Thank you so much for your feedback, Rachel! It makes our day hearing about how much our customers love our plants and the great service they have received from our team.
Choosing a selection results in a full page refresh.
Opens in a new window.