🌱 What is Your Planting Zone?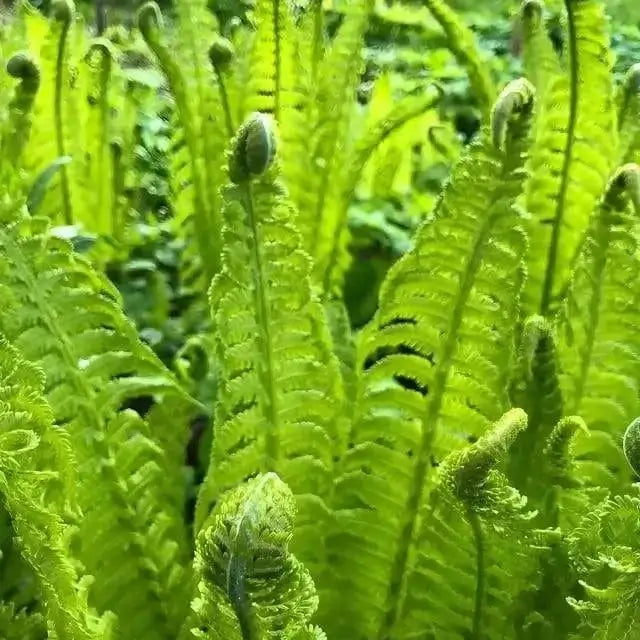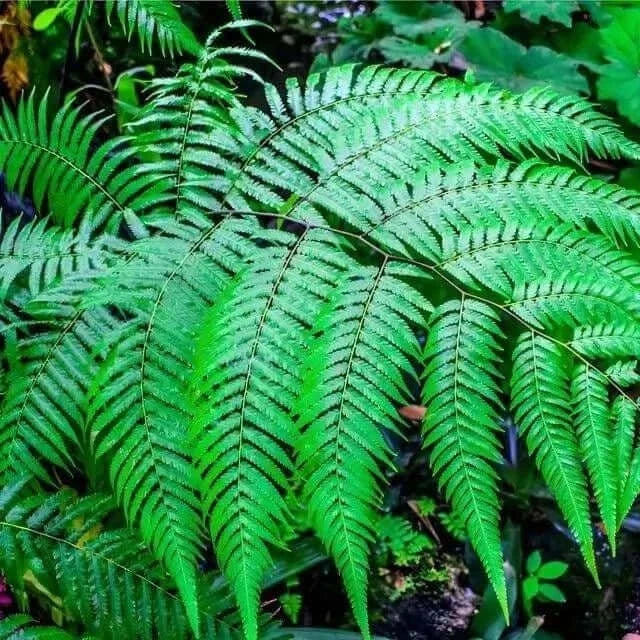 Tennessee Ostrich Fern
The Tennessee Ostrich Fern, known scientifically as Matteuccia struthiopteris var. pensylvanica, is a remarkable fern species native to the eastern United States. This elegant plant is cherished for its striking appearance and ability to thrive in various environmental conditions.
Standing proudly at an average height of 2 to 6 feet (60 to 180 cm), the fern is renowned for its feathery, lush fronds that resemble the plumes of an ostrich, giving it its unique name. These fronds unfurl gracefully in the spring, gradually forming a dense cluster of vibrant green foliage that adds a hint of wild beauty to its surroundings.
One of the remarkable qualities of this fern is its adaptability to different growing conditions. The fern thrives easily, whether planted in moist, shaded woodlands, along riverbanks, or even in gardens with partial sun exposure. Its preference for well-drained, consistently moist soil ensures its vitality, making it a versatile addition to landscaping projects and naturalistic garden designs.
Throughout the summer, the fern is a splendid backdrop to other plants in the garden, providing a calm, green oasis in warm weather. As autumn approaches, its fronds gradually turn a delightful golden hue, adding warmth and color to the landscape.
Tennessee Ostrich Fern Is Especially Low-maintenance
This fern also has the added benefit of being a low-maintenance plant. Once established, it needs the tiniest care and can propagate by producing spores on its fronds. Many gardeners appreciate the self-sufficiency of the fern, as it can gradually expand and fill in areas of the garden, creating a lush, green carpet.
In conclusion, the Tennessee Ostrich Fern is a captivating and versatile species cherished for its ornamental value and adaptability to various growing conditions. With its graceful fronds and ability to enhance any garden or natural setting, this fern is a true gem of Tennessee's native flora, contributing to the beauty of its landscapes.
Buy Tennessee Ostrich Fern At Wholesale Nursery Co
I am very pleased with my purchase.
I was very pleased with how I received the ferns and the detailed planting info that was enclosed. I purchased later in the season so I am not sure how they look yet but looking forward to next spring ❤️
giant ostrich ferns
I received the 100 giant ostrich fern starters in good condition and they're in the ground, watered and awaiting their emergence from the soil. Thanks again.
OStrich Fern
All seemed healthy. Some had new growth. All were similarly sized.
Thank you for the awesome review, Bruce! Your kind words are really appreciated. We are looking forward to making your day once more when you shop with us again.
Ostrich Ferns
I needed a large quantity of Ostrich Ferns for our rural road. I was able to locate them at a really reasonable price and received them quickly.
Thanks for the 5 stars Renee, your review is a great way to let us know we're on track for making our customers smile! We appreciate you taking the time to give your feedback and hope to see you shopping with us again.
Choosing a selection results in a full page refresh.
Opens in a new window.