🌱 What is Your Planting Zone?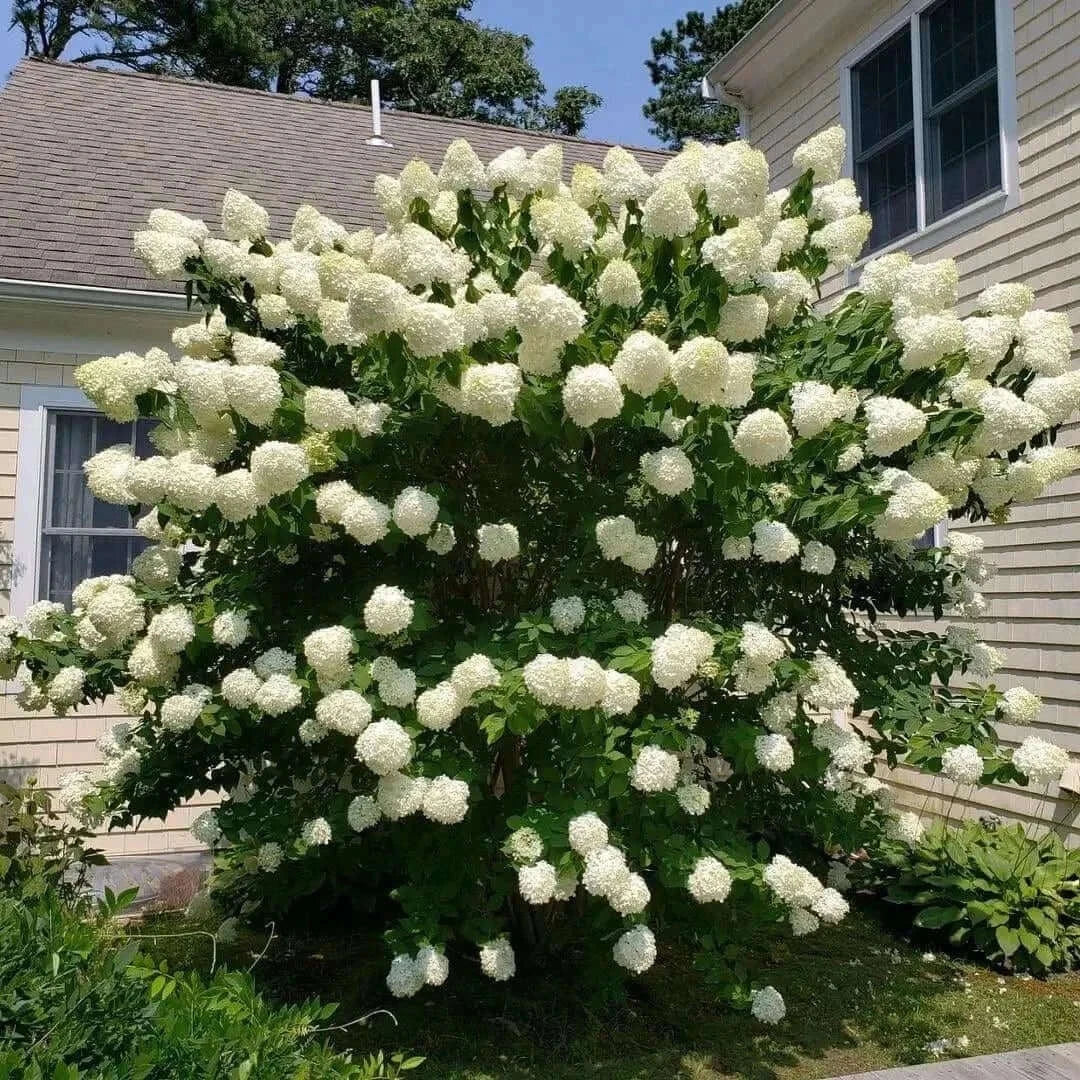 Pee Gee Hydrangea
The Pee Gee Hydrangea, scientifically known as Hydrangea paniculata, is a beautiful and popular deciduous shrub that belongs to the Hydrangeaceae family. This versatile plant is renowned for its stunning and showy panicle-shaped flower clusters, making it a favorite among gardeners and landscapers.
Key features of the shrub include its upright growth habit and ability to succeed in different soil types and climates. Relying on the specific cultivar and environmental conditions, it can extend anywhere from 6 to 15 feet in height. The leaves of this shrub are dark green and have a coarse texture, providing an attractive backdrop to its striking blooms.
The most notable feature of the shrub is its large, conical flower clusters, which typically appear in mid to late summer. These flower heads start creamy white and gradually change to shades of pink as they age, creating a stunning gradient effect on the same plant. The long-lasting blooms attract human admirers and serve as a valuable nectar source for pollinators like bees and butterflies.
Pee Gee Hydrangea Is Rather Low Maintenance
One of the appealing aspects of the shrub is its relatively low maintenance requirements. It flourishes in complete sun to partial shade and prefers well-drained soil. Trimming is suggested in late winter or early spring to maintain shape and encourage vigorous growth. This hydrangea is also known for its drought tolerance once established, although it benefits from regular watering, especially during dry spells.
Popular shrub cultivars include 'Grandiflora,' a classic choice with large, pyramid-shaped blooms, and 'Limelight,' known for its lime-green blossoms that turn pink in the fall. The shrub is a versatile and eye-catching addition to any landscape, whether used as a focal point in a garden, as part of a mixed border, or as a cut flower for arrangements. Its enduring beauty and ease of care make it a cherished plant among garden enthusiasts.
Buy Pee Gee Hydrangea At Wholesale Nursery Co
Great Buy
I bought these about 3 weeks ago. Quick Pro's and Con's:
-Pro's: The came in great shape. I am training a couple as trees into a standard and using others as a bush. After soaking them for two hours I planted them into the ground using shrub/tree soil. Literally 4 days later every single one started budding fresh green stems/leaves. Can't wait to grow these bad boys some more.
Con's: the time it takes for them to prepare your order. Also, they miscalculated the shipping cost.
All in all I believe you can be safe getting these. I am in zone 8b in central Texas. Just set right expectations waiting on the items and be patient. I highly recommend though.
Dear Kody, we appreciated your feedback about your experience, and just as we are glad that you let us know something had gone wrong, we also rely on you to help let people know that we have made things right. We would love to help turn this around for you. Please contact our customer support team via email customerservice@tennesseewholesalenursery.com or by calling +1 877-958-8471. We will be more than happy to help you with the issue you have experienced.
Vibrant
Ordered several and loved them
Thanks for the 5-star review, Joshua. We appreciate you taking the time to give your feedback and look forward to serving you again in the future.
Choosing a selection results in a full page refresh.
Opens in a new window.