🌱 What is Your Planting Zone?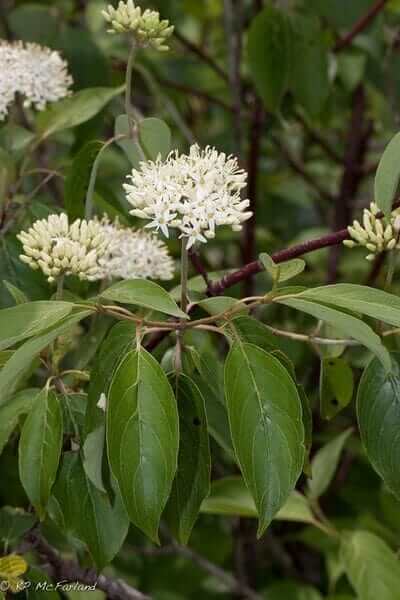 Silky Dogwood
Silky Dogwood, scientifically known as Cornus amomum, is a shrub native to North America, typically found in wetlands, woodlands, and along the banks of streams and rivers. This graceful and versatile plant is celebrated for its aesthetic appeal, ecological significance, and practical uses.
The shrub typically reaches 6 to 12 feet, boasting an upright, multi-stemmed growth habit. One of its standout features is its distinctive foliage, with opposite leaves that are lance-shaped, deep green, and turn vibrant shades of red and purple during the fall, adding a delightful splash of color to the landscape.
One of the most notable aspects of the shrub is its striking white flowers, which appear in late spring to early summer. These clusters of tiny, creamy-white blossoms are not only visually appealing but also attract pollinators like butterflies and bees, contributing to local ecosystem health.
After flowering, the plant produces small, bluish-black berries that are a valuable food source for various wildlife species, including birds and mammals. This makes it an essential component of wildlife habitats and a favored choice for those interested in supporting local biodiversity.
Silky Dogwood Has Various Uses
Moreover, this species has gained popularity in ornamental landscaping for its attractive appearance and adaptability to various soil and moisture conditions. Whether planted as a stand-alone specimen, in mixed borders, or as part of a naturalized garden, the shrub lends its unique charm to outdoor spaces.
Overall, it stands as a remarkable native plant with its graceful form, ecological significance, and multiple practical applications, making it a valuable addition to both natural ecosystems and cultivated landscapes.
Buy Silky Dogwood At Wholesale Nursery Co
Choosing a selection results in a full page refresh.
Opens in a new window.