There are multiple reasons to grow plants that attract pollinators. The flowers add color and interest to your garden. You are also doing something good for the environment. Did you know that an estimated 80% of the foods we consume require bees, butterflies, and other pollinators.
Selecting the best plants to attract pollinators is easier. Here are a few favors you may enjoy having in your garden.
Tips on Choosing the Best Plants for Your Pollinator Garden
Not all
native plants
grow in the same climate. Check your growing zone. In the continental United States, it typically ranges from zone 3 to 9. The higher the number, the warmer the climate. So, not all excellent weather plants will grow in zones 8 or 9. You also want to look at plant care information. It will let you know whether the plant likes sun or shade and whether it is easy to care for or requires year-round maintenance.
10 Best Plants to Attract Pollinators
This ornamental tree does not produce edible fruit but is famous for its profusion of pink flowers appearing in the spring.
 The branches are covered in fragrant pink spring flowers to attract pollinators, including bees and butterflies. A little pruning is recommended in the late summer or fall to encourage blooming yearly. Some gardeners even grow it as a flowering bonsai tree in pots or in the garden.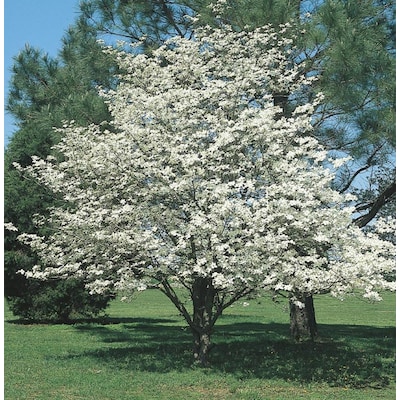 Gardeners in warmer regions love using the White Princess Dogwood tree in gardens as a large shrub or ornamental tree. The tree requires six hours of sunlight or more per day, giving you some flexibility on planting locations.White Princess Dogwood trees are resistant to diseases, pests, drought, and heat, making them a great addition to yards and gardens.It loses leaves in the winter, but the branches are covered in fragrant flowers in the spring. The white blossoms attract bees, butterflies, and other pollinators. Birds often nest in the limbs, hiding in the lush green foliage.
This bush is aptly named. When in bloom, it attracts bees and butterflies.
 It grows best in warmer climates but also can survive down to zone 5. In the winter, the bush dies back to the ground, returning in the early spring.Butterfly bushes require little care, typically only applying fertilizer in the spring.Depending on the variety, the hanging branches are covered in clusters of flowers in the summer, ranging from pink, white, red, and purple.The bush grows best in sunlight but can handle partial shade.
It's easy to see how the Chinese Snowball bush gets its name. Each branch holds entirely white flowers in the spring resembling snowballs.The round white flowers are stunning in the yard or garden. The shrub also attracts several pollinators, including bees and butterflies.It is a warm-weather plant, ideal for zones 6 through 9. It can grow in sun or shade, giving you flexibility when looking for the perfect planting location.Pruning the bush after blooming is recommended. It helps the bush keep its shape and prevents its growth from getting out of control. A mature bush can grow as high as 10 ft or more.
Red hibiscus can be grown as a bush or a tree. It depends on how you prune it after blooming. It cannot handle extended freezing temperatures and grows best in zones five and higher.Plant the hibiscus in full to partial sun and watch the large red blooms open in the late spring and summer.Along with adding a bright splash of color to your yard or garden, the large blooms attract bees, hummingbirds, and butterflies.
Red Weigela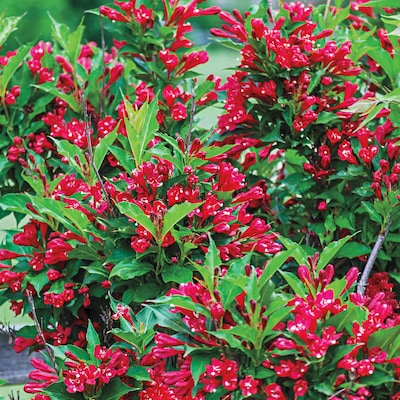 Red Weigela is prized for its long flowering season and bright-colored blooms. It thrives in full sun and does not require a lot of care. A dose of fertilizer in the spring helps encourage and support blooming. It grows in most zones from 4 through 8. It also gets along with most other plants commonly found in gardens.The flowers appear to spill off the branches, giving the shrub an elegant appearance.Birds, bees, and butterflies are attracted to flowers, helping to pollinate other plants in your garden.
When you want to make a statement in your garden, look no further than the Indian Pink plant. It thrives in full or partial shade and can handle cooler regions in Zone 5.The late spring to early summer bloomer requires some care. It does not like the soil to dry out, especially in sunnier locations completely.
Indian pink plants grow in clumps and are easily identified by their unique blooms. The tubular-shaped flowers have red outer petals with bright yellow ones sticking out on top.Along with adding interest to your yard or garden, the flowering plant attracts pollinators like bees and butterflies. 
Native to North America, Oxeye or Marguerite daisies are super easy perennials to grow. Occasionally grown in containers, the plant also makes a great addition to wildflower gardens, where they attract bees and other pollinators.
The low-growing plant produces white-petaled flowers with yellowish centers in the spring and summer. The long-blooming season ensures plenty of colors, and the dark green leaves provide texture.
Oxeye daisies can grow in almost any zone from 2 up to 9. While they do best in full to partial sun, the plant can tolerate shade.
The Red Cardinal flower is native to North America and grows in most zones except those below three or above 9. It performs best in full sun and does not require a lot of care. Water in the spring and summer when the soil is dry.In the mid to late summer, the plant produces tall spikes of bright red flowers that are impossible to overlook. Along with adding color when many other garden plants have stopped blooming, the flower spikes attract pollinators.
arrow Plants produce delicate white flowers that form in clusters on the stems. The tall-growing plant adds a soft andThe perennial is resistant to almost any adverse growing condition, including deer, pests, drought, and humidity.
When it blooms, the plant attracts pollinators and is a popular addition in butterfly gardens.
Start Your Pollinator Garden Today
With native flowering plants, you can attract pollinators to your garden, and we can help you select the best ones. Browse our extensive online catalog and find plants with color, unique foliage, or all of the above.