🌱 What is Your Planting Zone?
Regular price
Sale price
$99.99 USD
Unit price
per
Sale
Sold out
View full details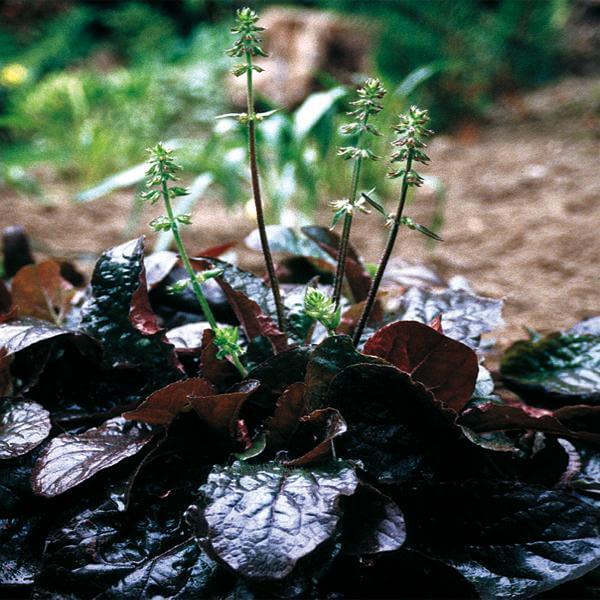 Lyreleaf Sage is known for its distinctive lyre-shaped leaves and vibrant purple-blue flowers.
Lyreleaf Sage (Salvia lyrata) is a captivating perennial plant native to the southeastern United States. Known for its distinctive lyre-shaped leaves and vibrant purple-blue flowers, the plant adds elegance to gardens, meadows, and natural landscapes. In this extensive description, we will delve into the various aspects of plant, including its physical characteristics, habitat, cultivation, medicinal uses, ecological significance, and more.
Physical Characteristics: It typically grows up to 2 feet (60 centimeters) in height, forming a dense foliage clump. The plant features large basal leaves that are deeply lobed, resembling the shape of a lyre or harp. The leaves are typically around 4-6 inches (10-15 centimeters) long and have a dark green color, which provides an attractive backdrop for the plant's eye-catching flowers. The flowers of the plant are arranged in whorls along upright stems, each consisting of a tubular shape and a two-lipped corolla. The upper lip of the flower is hooded and usually a shade of deep violet or purple, while the lower lip is more elongated and often white or pale.
Habitat and Distribution: The plant is primarily found in the southeastern region of the United States, including states such as Texas, Oklahoma, Louisiana, Mississippi, Alabama, Georgia, Florida, and South Carolina. It thrives in various habitats, including open woodlands, meadows, prairies, and disturbed areas such as roadsides. The plant prefers moist to wet soil and can often be found near streams, swamps, or other water sources.
Cultivation: The plant is an adaptable plant cultivated in various conditions. It prefers full or partial sun exposure and well-drained soil but can handle some shade and different soil types. The plant is relatively low-maintenance and has good drought tolerance once established. It can be propagated through both seeds and divisions. If you wish to grow it in your garden, it is recommended to sow the seeds directly in the ground in the spring or fall, as they require light to germinate. The plant will self-seed in favorable conditions, creating beautiful colonies over time.
Lyreleaf Sage leaves have a mild mint-like flavor. They can be used fresh or dried to add a subtle herbal note to salads, soups, stews, and sauces.
Ecological Significance: it plays a vital role in the ecosystem as a nectar source for pollinators, including bees, butterflies, and hummingbirds. Its vibrant flowers attract these beneficial creatures, promoting pollination and facilitating the reproduction of other plants in the area. The plant's seeds are also a valuable food source for birds and small mammals, contributing to the overall biodiversity of the region.
Conservation and Landscaping: Due to its natural beauty and ecological importance, the is often cultivated in native plants, wildflower meadows, and realistic landscaping projects. Its attractive foliage and stunning flowers make it popular among gardeners and landscape designers aiming to create visually appealing and environmentally friendly spaces.
Lyreleaf Sage is recognized for its contribution to biodiversity and ability to thrive in natural and urban environments.
In recent years, there has been an increased focus on conserving and restoring native plant species. Efforts are being made to preserve its natural habitat and promote its cultivation to ensure its continued presence in the ecosystem.
In conclusion, Lyreleaf Sage (Salvia lyrata) is a captivating plant native to the southeastern United States. With its lyre-shaped leaves, vibrant flowers, and ecological significance, this perennial herb offers beauty, medicinal value, and support for pollinators. Whether in a natural setting or a carefully curated garden, it continues to enchant its unique characteristics, making it a cherished component of the region's biodiversity.
Get your Lyreleaf Sage from Wholesale Nursery Today!